You may recall, Earlier on this year we published a Q&A with a Tesla customer currently towing Troll 530 Oceandrive. The Blog was really well received and by popular demand we are happy to confirm that we have published another EV blog post. Neale recently purchased a new Electric vehicle, He's been kind enough to put together this article which he hopes will help any customers looking to tow with a Electric vehicle.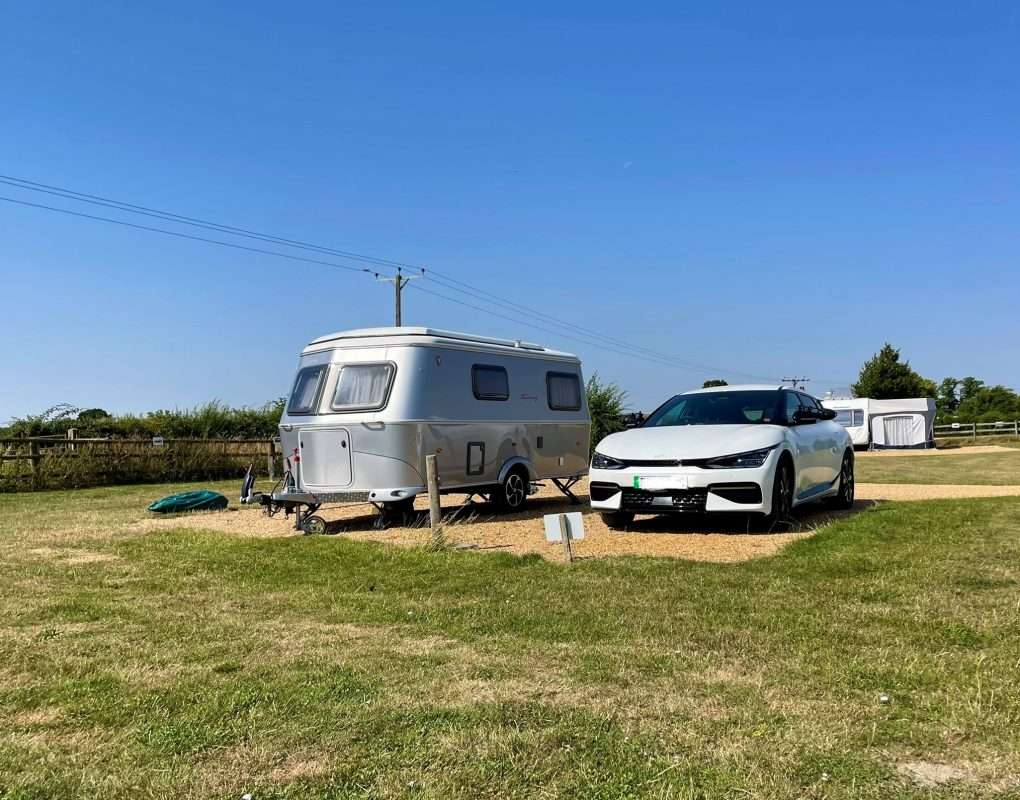 I have wanted to shift to an electric vehicle (EV) for a number of years but a car that can tow my 2018 Eriba Troll 530 and meet my needs has been out of reach until now. Recently I began driving a Kia EV6 GT-Line (rear wheel drive) to replace my Skoda Superb and the transition has been fantastic. Towing with an electric vehicle is a completely different experience from a conventional combustion engine car.
There is a lot of curiosity, some doubt and too much misinformation out there. The bottom line is that the EV6 is a quiet, powerful, brilliant handling towing vehicle. A fantastic, effortless experience. And a perfect pairing with an Eriba. It is certainly turning heads.
The EV6 can legally tow up to 1600kg. Well within the Eriba family. My Eriba it is plated 1400kg (inc payload) although I tend to tow it 1200kg-1300kg. I have read that although weight plays a part, aerodynamics has the biggest impact. The Eriba is perfectly placed being one of the most aerodynamic caravans on the market with it's original classic design, pop-top roof and slanted/pointed from making it very stable to tow and more efficient than the run-of-the-mill white box caravans.
I have always towed quite at quite conservative speeds. Even with my previous very capable diesel. I have never been one to fly down a motorway dragging a box behind me at dangerous speeds. So the shift to towing with an EV with an eye on efficiency was an easy transition. My EV6 has an advertised range of 328 miles on a 100% charge when it is not towing. Range is affected by a number of factors including types of roads, driving style ands whether you are in eco or sport mode. Conventional cars rarely get close to their mpg, and I have found my EV6 range is around 290 miles the way I drive it. Others I have talked to achieve ranges above the advertised figure. When towing, the range is more or less halved. Towing with conventional cars is also severely affected too, but rarely mentioned.
On my first trip towing, I set off with 100% charge in the morning of the ridiculous July 2022 heatwave. It was already 33C. I drove 71.5 miles on a mixture of roads and speeds including a 60mph stretch on the motorway. I averaged 2.6mi/kWh and arrived with 66% charge remaining. It was a dream to tow. I had expected a lot more energy would have been used and was both surprised and pleased to arrive with 66% charge remaining. This certainly removes any range anxiety I initial had. The return tow was the same effortless experience. Same route in reverse and I achieved a slightly lower efficiency of 2.3 mi/kWh.

According the the stats, the vast majority of caravan trips are within 100 miles, I know mine certainly are, so this performance easily accommodates this. For the time being I'll stick within 100miles as I get to understand the car when it tows. I will eventually do longer trips and will plan for 1 stop for a 100 to 180 mile journey and 2 stops for a 180 to 250 mile journey to provide a modest range left once unhooked at the destination. I have never towed further than 250 miles in a single trip in my old diesel, so doubt I'll be doing it in the EV. Perhaps once I get used to my comfortable range I'll have a trip into Europe and see how that goes.
The Kia Ev6 is a brilliant EV that is fabulous to tow with. A perfect match for an Eriba.